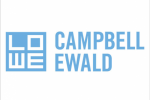 Lowe Campbell Ewald,
Detroit
Follow
Update
2000 Brush Street, Suite 601
Detroit, Michigan 48226
United States
Phone: (+1) (586) 574-3400
Fax: (+1) (586) 393-4657
Campbell-Ewald works behind the scenes in Dallas to paint the town Navy blue
May 21, 2009
DETROIT, May 21, 2009 Some Dallas shoppers did a double take when they discovered huge backlit murals that were just recently store windows in two Dallas-area malls. They were more intrigued when they became aware that parts of the windows were sensitive to touch or emitted sound. The murals were just one of the surprises that advertising agency Campbell-Ewald created to help its U.S. Navy client...