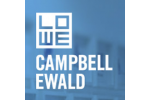 Lowe Campbell Ewald,
Warren
Follow
Update
30400 Van Dyke Avenue
Warren, Michigan 48093-2316
United States
Phone: (586) 574-3400
Fax: 586 558-5896
Campbell-Ewald's Social Media Director Talks Measurement at Community 2.0 Conference
May 11, 2009
DETROIT May 11, 2009 This week's Community 2.0 Conference in San Francisco takes a deep dive into measuring the value and success of social communities with Dave Linabury leading the symposium this afternoon in Measuring Success in Communities. "We all know online communities are a great way to deepen relationships with customers, but how do you measure success?" queries Campbell-Ewald Director Social...