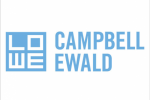 Lowe Campbell Ewald,
Detroit
Follow
Update
2000 Brush Street, Suite 601
Detroit, Michigan 48226
United States
Phone: (+1) (586) 574-3400
Fax: (+1) (586) 393-4657
Giving Back: Campbell-Ewald sends kids in need to summer camp
July 1, 2009
Warren, MI
Giving back to the community is one of
Campbell-Ewald's
core values, and it showed on June 26 as the agency equipped and funded 19 deserving kids for the summer camp experience of a lifetime through its "Multiply the Moments for Others" program.
"For so many of these kids, the camp experience would only be a dream without the generosity of our employees," said Jim Palmer, Vice Chairman, Chief Client Officer.
The agency covers all camp fees for the participating campers, who are selected by the
United Way of Southeast Michigan.
Employees participate by donating camp supplies, such as duffle bags, sleeping bags, and all the things a kid might need at camp - flashlights, beach towels, sunscreen, toiletries, etc. The selected campers were given their gear at an agency send-off and ice cream party on Friday.
"'Multiply the Moments for Others' is an agency-wide tradition of helping others in the community," said Tony Hopp, Chairman, Chief Executive Officer. "With the generous support of individual employees, the agency celebrates four seasons of giving. In addition to Kids for Camp, Campbell-Ewald hosts its own children for a day of fun with Creativity for Campbell-Ewald Kids in July. In the fall, the agency raises donations and awareness for United Way and other community organizations through the Gift of Giving pledge campaign. And in the winter, Campbell-Ewald helps make the holidays special for less fortunate families through an Adopt A Family program."
In 2009, Campbell-Ewald and its employees will again contribute more than $1 million and provide volunteer leadership to many charitable and industry endeavors.
"We are pleased to be able to set the pace for the advertising industry through our financial contributions and pro bono services to groups that serve our communities," said Palmer.
Campbell-Ewald
is one of the nation's largest advertising and digital communications agencies, with more than 1,100 employees and offices in Detroit, Los Angeles, Atlanta, Chicago, Dallas, New York, and Washington, D.C. A part of The Interpublic Group of Companies (NYSE:IPG), Campbell-Ewald partners with a score of national brands, including Alltel Wireless, ARAMARK, Buffalo Wild Wings, Carrier, Chevrolet, General Motors, Ghirardelli, Kaiser Permanente, Olympic Paints and Stains, OnStar, USAA, the United States Mint, the United States Navy and the United States Postal Service.