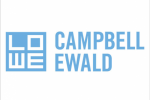 Lowe Campbell Ewald,
Detroit
Follow
Update
2000 Brush Street, Suite 601
Detroit, Michigan 48226
United States
Phone: (+1) (586) 574-3400
Fax: (+1) (586) 393-4657
Campbell-Ewald works behind the scenes in Dallas to paint the town Navy blue
May 21, 2009
DETROIT, May 21, 2009

Some Dallas shoppers did a double take when they discovered huge backlit murals that were just recently store windows in two Dallas-area malls. They were more intrigued when they became aware that parts of the windows were sensitive to touch or emitted sound.

The murals were just one of the surprises that advertising agency Campbell-Ewald created to help its U.S. Navy client celebrate NAVYForMoms.com, its dynamic online community, during the Mother's Day weekend in Dallas.

To design the experience at Parks at Arlington Mall, Campbell-Ewald worked with Inwindow Outdoor and digital partner Helios Interactive Technologies to make the actual store windows touch-sensitive. Designed to appeal to both potential recruits and influencers, shoppers were able to browse through snapshots depicting many different facets of Navy life, ranging from humanitarian to special operations missions, and read actual postings from NAVYForMoms.com members. At Vista Ridge Mall, a projector with motion-detecting capabilities was used to create a gesture-triggered video screen, where the window itself functions as the speaker for the audio. The interactive elements were blended seamlessly into a larger static display, adding to the surprise factor for consumers. [See photo and caption.]

"Young people and their parents gather a lot of information in making the big decision to join the Navy," said Campbell-Ewald President Kathleen Donald. "With teens always on the go, for the past eight years we've been creating messages for Navy using the latest communications technologies to deliver them in unexpected ways."

In addition to the interactive displays, NAVYForMoms.com posters and banners took over most of the advertising locations in these malls. The creative featured close-up photos of Navy women and men engaged in a wide variety of missions with headlines that recall the motherly maxims everyone remembers from childhood. One kiosk captures a determined Navy SEAL in full gear emerging from an underwater swim below a headline reminder, "Use plenty of sunscreen. Mom."

In the days leading up to Mother's Day, the agency arranged to bathe two popular shopping areas in Navy blue lighting and created other special events. At one popular shopping venue, retailers featured special blue discounts for moms and, across town in another, restaurants gave blue flowers to mothers at Sunday brunch. NAVYForMoms.com mothers were recruited to cheer on local participants and snap souvenir photos at a Navy SEAL Fitness Challenge on Saturday.

"Parents are often eager to learn what service in the Navy is all about," said Donald. "NAVYForMoms.com is a real community. Campbell-Ewald facilitates the mom-to-mom discussion, but we don't participate in the dialogue. Mothers join because they value the honest responses and genuine support they get from other Navy moms about their concerns."

The agency does query NAVYForMoms.com members to fine-tune its client assignments. Responses started almost immediately when, earlier last week, the online moderator invited Dallas-area members to drop by the mall displays and provide their critiques online.

The agency introduced similar initiatives in New York and Boston last fall and manages Navy's participation in other local events throughout the country as extensions of a comprehensive advertising, digital communications and direct marketing recruitment program.