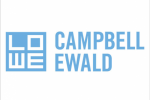 Lowe Campbell Ewald,
Detroit
Follow
Update
2000 Brush Street, Suite 601
Detroit, Michigan 48226
United States
Phone: (+1) (586) 574-3400
Fax: (+1) (586) 393-4657
Campbell-Ewald's Social Media Director Talks Measurement at Community 2.0 Conference
May 11, 2009
DETROIT May 11, 2009

This week's Community 2.0 Conference in San Francisco takes a deep dive into measuring the value and success of social communities with Dave Linabury leading the symposium this afternoon in Measuring Success in Communities.

"We all know online communities are a great way to deepen relationships with customers, but how do you measure success?" queries Campbell-Ewald Director Social Media Linabury. "Beyond the obvious loyalty benefits, these communities reduce customer service inquiries, spot company errors or process disconnects and are a rich source of new product and service ideas."

Gleaned from Campbell-Ewald's experience in managing social media initiatives for its clients, Linabury will discuss seven key measurement insights including Gen Y preferences for social networks that are changing web site content expectations.