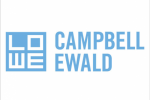 Lowe Campbell Ewald,
Detroit
Follow
Update
2000 Brush Street, Suite 601
Detroit, Michigan 48226
United States
Phone: (+1) (586) 574-3400
Fax: (+1) (586) 393-4657
Campbell-Ewald Dominates and Sets Records at 2009 DMAD Target Awards
June 9, 2009
DETROIT, June 9, 2009 - For the ninth straight time, Campbell-Ewald dominated the Direct Marketing Association of Detroit (DMAD) Target Awards bringing home nine awards on behalf of six clients, including the coveted 2009 Golden Target Award for the agency's U.S. Postal Service "Environmailist™" campaign. In addition to the wins, Campbell-Ewald set two first-ever records: the first agency to have a campaign receive a perfect score from an independent panel of judges, and the first agency to win the Golden Target Award two years in a row.

"Our U.S. Postal Service Environmailist™ campaign not only received a perfect score and the grand prize in this competition," said Mark Bellissimo, Campbell-Ewald President, "it delivered the highest response rate of any of our USPS large business campaigns to date. We are honored that the creativity and effectiveness of this campaign have been recognized and rewarded by the Direct Marketing Association of Detroit."

In addition to the USPS campaign, Campbell-Ewald also won first-place honors with three other campaigns, including "Chevy Outdoors Sporting Journal" for Chevrolet, "Hagerty's" for Hagerty's Insurance and "Reactivation" for Wyndham Worldwide/TripRewards. Additional honors went to campaigns for General Motors and U.S. Navy.

Sponsored by the Direct Marketing Association of Detroit (DMAD), the Target Awards competition evaluates the creativity, marketing strategy, results and overall effectiveness of a campaign. First-place Target Award winners will advance past the first round of judging in the DMA International ECHO Awards competition to be held in October.