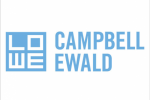 Lowe Campbell Ewald,
Detroit
Follow
Update
2000 Brush Street, Suite 601
Detroit, Michigan 48226
United States
Phone: (+1) (586) 574-3400
Fax: (+1) (586) 393-4657
New Navy TV Commercial Gives Viewers a Powerful Image of Navy's Impact
November 17, 2011
San Diego, CA — The U.S. Navy has a new TV spot titled "100%," created by Campbell Ewald, to introduce the deterrence tenet of Navy's Maritime Strategy. This tenet focuses on Navy's forward deployment and force readiness while showing Navy's relevance across the globe by sharing some memorable facts including how a large percentage of the world's population and trade is impacted by water.
"Deterring aggression is part of what we do as America's Navy," said Commander Brent Phillips, Director of Marketing and Advertising for Navy Recruiting Command. "This latest commercial helps us share this important mission with those we serve."
The new :30 spot begins with a shot of a wide expanse of sea seen from above as supers begin to move in and out of the scene, that say: 70% of the earth is covered in water; 80% of people live near water; 90% of all trade travels by water. These visuals are followed by one of a U.S. Navy aircraft carrier entering the frame as it eclipses the last super. Its massive presence fills the entire frame. As it passes by, the viewer sees the unbelievable length of this great ship along with the arsenal and sailors around the flight deck. It finally clears leaving a wake behind as another super appears on the screen with the words: 100% on Watch. A voice-over then says "America's Navy. A Global Force For Good."
Navy's Maritime Strategy is comprised of six tenets — power projection, humanitarian assistance/disaster response, deterrence, forward presence, maritime security and sea control. Together, these tenets define America's Navy as A Global Force For Good. The spot created by Campbell Ewald introducing the Maritime Strategy is entitled "The Calling," and was released in 2009. It describes the men and women who answer the Navy's call. The first two tenets depicted — Power Projection and Humanitarian Assistance — were represented through two separate :30 commercials – "Power" and "Until".
"The strategy behind the work shows the role Navy plays not only in deterring aggression, but how relevant the Navy is to our daily lives. It makes viewers think twice about the impact the Navy has on their safety, and way of life, every day," said Mark Simon, chief creative officer from Campbell Ewald.
The spot ran exclusively during the inaugural Carrier Classic event that took place on November 11, 2011. The Carrier Classic was the NCAA men's basketball season opener played between the Michigan State University Spartans and the University of North Carolina Tar Heels. The game was played at Naval Base Coronado aboard the USS Carl Vinson, a Navy aircraft carrier that was constructed to have a regulation-size basketball court and seating. The game, won by North Carolina 67-55, was ESPN's highest-rated game since 2006.
Campbell Ewald has been the U.S. Navy's agency of record since 2000.
America's Navy is very much a global force for good, on station around the world and around the clock, deterring aggression, keeping the sea lanes open for free trade, and, when necessary, projecting power.
The Navy is ideally suited for today's challenges, because the Navy is fast and flexible.  It can go anywhere on the ocean on short notice, and can do all of its work from the water: 
Navy ships and submarines can shoot at targets and knock out enemy missiles far inland – from the water. 
Navy planes fly about half of the aerial combat missions in Afghanistan.  They don't need airstrips on the ground.  They take off from aircraft carriers – from the water. 
Navy SEAL teams can carry out special operations worldwide – from the water.
In a humanitarian crisis like a tsunami or an earthquake, the Navy can deliver huge amounts of supplies and provide hospital-quality medical care – from the water.
Campbell Ewald is a collaborative marketing communications agency that provides clients game-changing solutions. As one of the nation's largest communications brands, Campbell Ewald is made up of a collective of thought leaders with innovative capabilities both traditional and specialized, including advertising; insights and solutions planning; integrated content strategy and development; social, relationship, retail and experiential marketing; interactive/digital; and strategic media planning and buying.
Campbell Ewald has offices in Detroit, Los Angeles, San Antonio, Miami and Washington, D.C. A part of the Interpublic Group of Companies (NYSE:IPG), Campbell Ewald partners with a score of national brands, including Alltel Wireless, Carrier, Chicken of the Sea, General Motors, Ghirardelli, Kaiser Permanente, Olympic Paints and Stains, OnStar, USAA, the United States Environmental Protection Agency, the United States Mint, the United States Navy, and the United States Postal Service.