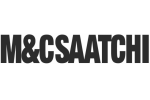 99 Macquarie Street
Sydney, New South Wales 2000
Australia
Phone: (0)2 9 019 6000
Fax: (0)2 9019 5214
Philosophy & Competitive Advantages
Brutal simplicity of thought
It is at the heart of everything we do.
From creative thinking, to creative work.
From how we are structured, to the systems we use.
It is born from a deep dislike for vagueness and waffle.
A preference to get to the point.
A modern form of manners in a world short of time.
It works on the premise that it's easier to complicate than simplify.
Simple messages enter the brain quicker and stay longer.
Brutal simplicity of thought is therefore a painful necessity.
Nothing is impossible
A belief in our ability to change the world.
A flat refusal to accept the status quo.
A conviction that an individual can make the highly improbable, possible.
Network Description
Part of M&C Saatchi global network that comprises 27 offices in 18 countries.
Local Representation
Australia Head Office is in Sydney, with 365 employees.
Melbourne office has 15 employees.