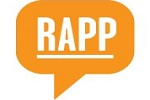 RAPP,
New York
437 Madison Avenue 3rd Floor
New York, New York 10022
United States
Phone: (212) 817-6800
Fax: (212) 686-7047
Country Phone Code: 1
Philosophy & Competitive Advantages
Our mission:
We are dedicated to improving the profitability of our clients by dramatically increasing the value of their relationships with their customers. We accomplish this through the innovative applications of technology and intellect to transform information into customer understanding and creative communications solutions.

Our Vision:
We will dominate the worldwide market for knowledge-based marketing solutions that maximize customer relationships. We will be the preferred home for peerless creative, strategic, technical and service professionals.

Our Beliefs:
Our people are the single most important asset of the company. You create our strategies and ideas; our relationships with satisfied clients; our growth and profits; our opportunities for our future, for yourselves and for the company. We are committed to a learning environment where you can develop your careers. We are dedicated to a culture that demands excellence in all that you do.

Our future is secured only by earning the complete trust of our clients, our people, our partners, our shareholders and our publics. Integrity is at the core of our ability to retain clients, produce superior work, deliver outstanding results, lead our industry and inspire our people. Our management is dedicated to integrity through openness, accessibility, honesty and resolve.

Technology is a critical enabler in meeting our mission and fulfilling our vision. We will maintain superiority in the application of information technologies and continually leverage our knowledge to meet the needs of our clients.

To our clients, we are accountable for delivering measurable results. To our people, we are accountable for creating career opportunities and an environment where they can maximize their potential. To our clients and to the company, our people are accountable for taking total ownership and responsibility for their tasks and assignments.
Network Description
Rapp & Collins (New York), an agency founded in 1965 by Stan Rapp and Tom Collins and acquired by Doyle Dane Bernbach in 1977. The philosophy of Mr. Rapp and Mr. Collins, authors of a trilogy of celebrated books on marketing, remains the cornerstone of the way we do business. And their stature as consultants and influencers in the industry makes us proud. Marcoa Direct (Chicago), founded in 1971 by Dave Hefter, Dave King and Ron Perella — all alumni of McCann Erickson, Chicago and pioneers in direct response advertising. The DR Group (Boston and New York), which traces its lineage to 1921 — is in the forefront of direct marketing. Leonard Raymond, a member of the Direct Marketing Hall of Fame, and Logan Dickie were the founders of the Dickie-Raymond (DR) Group. The DR Group became part of Needham Harper Worldwide in 1983. The Direct Response Group (Dallas), founded in 1978 as a marketing and database systems company. In 1985, it was purchased by Doyle Dane Bernbach in order to add database expertise to its arsenal of client services. Now called Rapp Collins Worldwide-Dallas, it remains one of the largest database marketing companies in the world. BBDO Direct (New York), started in 1982 as a division of BBDO — the worldwide general advertising agency. BBDO Direct, The Direct Response Group, Rapp & Collins, Marcoa Direct, and The DR Group were ultimately merged at various points to form Rapp Collins Worldwide. The merger of the above agencies was a result of the 1985 founding of the Omnicom Group, Inc. — a mega-merger of BBDO, Doyle Dane Bernbach, and Needham Harper and their various subsidiaries — and currently the third largest advertising agency holding company in the world. More recently, Rapp Collins has been joined by other agencies: U.S. Communications Corporation (Minneapolis and Dallas), originally founded in 1975 as a promotion agency. It expanded into a marketing agency in 1991, following the integration of Chicago-based Unispond (direct marketing) and Minneapolis-based McCool and Company (advertising and design), and was acquired by Rapp Collins in 1992. Hughes Database Marketing, Inc. (Toronto), founded in the early 1980s by Terry Hughes, provides state-of-the-art marketing and consulting services for clients entering database marketing for the first time. It joined Rapp Collins Worldwide in 1992 and has since doubled in size. WWAV, the UK's largest direct marketing group, joined the Rapp Collins family in 1993 and has since grown in size by more than half. Optima, a telemarketing agency located in Vienna VA, was acquired by Rapp Collins Worldwide in 1994. Rapp Collins Worldwide has over 2,400 professionals in 53 offices across North America, Latin America, Western Europe and Asia Pacific. Outside of North America, offices are located in major business centers including Mexico City, Santiago, London, Leeds, Paris, Vienna, Brussels, Copenhagen, Hamburg, Athens, Milan, Amsterdam, Madrid, Barcelona, Zurich, Stockholm, Edinburgh, Sydney, Hong Kong and Tokyo. These offices provide Rapp Collins' clients with truly global direct response and database management capability. In 1998, RCW's capitalized billings were over $1.029 billion in North America and $2.009 billion worldwide.
Trade Organizations
Association of National Advertisers, Inc. (ANA)