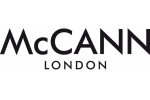 McCann London,
London
7-11 Herbrand Street
London WC1N 1EX
United Kingdom
Phone: 020 7837 3737
Fax: 020 7837 3773
Country Phone Code: 44
Philosophy & Competitive Advantages
OUR PHILOSOPHY We're all about Cultural Connections. What are they? Well, it's pretty simple. A Cultural Connection is an idea that plugs a brand into a culture. They are ideas that people want to talk about, experience, share with friends, and bring into their lives. They are ideas that cause a reaction and make a brand relevant in peoples' lives. And by establishing these Cultural Connections for each of our Clients' brands we aim to deliver against our mission to create demand for them today and tomorrow.
Network Description
The McCann Worldgroup Advertising network is the most extensive in the world, providing better coverage of all continents, with more wholly owned agencies, giving greater control. Significantly more of our agencies are ranked in the local top 3 than any other network (as measured by AdAge magazine). This ensures clients have a consistently high standards all over the world. Our International clients are handled in the manner that best suits their business needs. We are represented in most major cities, not just in capitals, giving us the flexibility to forge close relationships on a local level and/or co-ordinate business through choosen regional hubs.
McCann WorldGroup has 54 agencies in Europe, 48 in the Americas, 37 in Africa, 13 in Middle East and 28 in Oceania
Trade Organizations
Institute of Practitioners in Advertising (IPA)