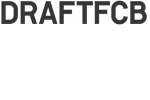 Draftfcb Canada,
Toronto
Follow
Update
219 Dufferin Street Suite 302C, Liberty Village
Toronto, Ontario M6K 3JI
Canada
Phone: 416 483-3600
Fax: 416 489-8782
About Us
Draftfcb Canada is a full-service, fully integrated, fully bi-lingual marketing and communications agency with offices in Toronto and Montreal. With our 250 employees, we are the only prominent "agency" in Canada to truly integrate mass advertising (on and off-line) with DM, CRM and brand activations. Our head office is located in Toronto. Draftfcb Worldwide has 150 offices in 90 countries on five continents with more than 8,000 employees. Our offices share a number of national and global clients, but importantly have their own local non-conflicting clients. Each office is a stand-alone integrated agency, where appropriate with shared services for IT, Finance and Human Resources.
Philosophy & Competitive Advantages
Our real point of difference lies in our DNA; why we were created in the first place. Draftfcb is the result of a merger between an established, successful, "traditional" creative agency (FCB) and a younger, more data-driven direct marketing agency (Draft). We were created to deliver a real R.O.I. (Return On Ideas) for our clients, bringing together creativity and accountability to ignite media-neutral solutions, in a non-siloed structure, operating against a single client P&L. Our "6.5 Seconds That Matter" operating system (including a unique creative brief that leverages both qualitative and quantitative inputs) drives the development of communications that are simple, original, relevant and compelling. As an organization, we are transparent, curious, collaborative, and above all, accountable. Our core Canadian Management Team has been together for over twelve years, staying true to a hiring philosophy of "we hire good people who happen to be smart." We have a core set of values that course through the company; creativity, accountability, curiosity, collaboration, integrity... and the ability to have fun.
Network Description
Draftfcb places equal emphasis on creativity and accountability, science and art. We are made up of a diverse, passionate group of thinkers, creators, poets, artists & technologists devoted to creating brilliant ideas that change behavior. With nearly 140 years of combined expertise, Draftfcb has roots in both consumer advertising and behavioral, data-driven direct marketing. Our worldwide network now spans 150 offices in 90 countries, with over 8,000 people, and is part of the Interpublic Group of Companies (NYSE:IPG).
Local Representation
Draftfcb has been doing business in Canada under one banner or another (Foote Cone & Belding or Draft) for the past 53 years.
Trade Organizations
Print Measurement Bureau (PMB)
Newspaper Audience Databank (NadBank)
Canadian Outdoor Measurement Bureau (COMN)
Broadcast Bureau of Measurement (BBM)
Audit Bureau Circulation (ABC)
A.C. Nielsen