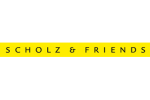 Scholz & Friends Group,
Hamburg
Follow
Update
Am Sandtorkai 76 Hanseatic Trade Center
Hamburg 20457
Germany
Phone: 040 37 681 0
Fax: 040 37 681 681
Philosophy & Competitive Advantages
Our belief is that the best advertising and marketing communications are created among friends.

We have a "passion for new thinking" in every dimension from creative work to service.

Both elements have shaped our campaigns over the last 18 years, establishing creative standards which have made us part of Germany´s advertising elite.

Since 1995, we have been developing these standards internationally, becoming one of the fastest growing networks in Europe.
Network Description
Austria SCHOLZ & FRIENDS Wien Belgium SCHOLZ & FRIENDS Brussels Czech Republic SCHOLZ & FRIENDS Praha France SCHOLZ & FRIENDS Paris Germany SCHOLZ & FRIENDS Hamburg, SCHOLZ & FRIENDS Berlin Greece SCHOLZ & FRIENDS Athens Hungary SCHOLZ & FRIENDS Budapest Italy SCHOLZ & FRIENDS Milano Poland SCHOLZ & FRIENDS Warszawa Russia SCHOLZ & FRIENDS Moscow Singapore SCHOLZ & FRIENDS Singapore Spain SCHOLZ & FRIENDS Madrid Ukraine SCHOLZ & FRIENDS Kiev United Kingdom SCHOLZ & FRIENDS London