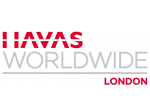 Havas Worldwide London ,
London
Follow
Update
Cupola House 15 Alfred Place
London WC1E 7EB
United Kingdom
Phone: (+44) 020 7240 4111
Fax: (+44) 020 7467 9210
Havas Worldwide London wins organic baby food brand Ella's Kitchen's European advertising account
March 6, 2014
Ella's Kitchen, the organic baby and children's food brand, has appointed Havas Worldwide London to handle their European advertising account, after a competitive pitch.
This partnership will see Havas work to develop all the creative and digital activity for Ella's Kitchen, starting with the launch of a new product range that will run in the UK, Europe, and the US.
Founded in 2006, Ella's Kitchen was the first brand to bring pouches to the baby food market. They currently have a 24% share of the wet baby food market (Nielsen value 13 w/e 28.12.14'), and their products, which are 100% organic, are sold in supermarkets in the UK, northern Europe and the US.
Mark Cuddigan, Joint Managing Director of Ella's Kitchen Europe, said: "We were all blown away by the team's approach, creativity and integrated strategic thinking throughout the pitch process, and are extremely excited about working with Havas to further develop our brand."
Russ Lidstone, Havas Worldwide Chief Executive, said: "We're very proud to have been chosen to work with Ella's Kitchen. It's such a fantastic brand with a real purpose, and it's great to have the opportunity to help take this to the next stage."