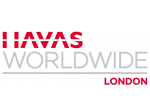 Havas Worldwide London ,
London
Follow
Update
Cupola House 15 Alfred Place
London WC1E 7EB
United Kingdom
Phone: (+44) 020 7240 4111
Fax: (+44) 020 7467 9210
Euro RSCG London creates animated Christmas sponsorship idents for Comet
November 24, 2011
Comet sponsors Christmas entertainment across C4 and UK TVEuro RSCG London has created a series of animated Christmas idents for Comet, the UK electrical retailer. The executions show a cosy Christmassy home and demonstrate how Comet can help with gift ideas, delivery, a 'click and collect' service and mobile shopping. The idents will launch during November and until 5th January.The sponsorship bumpers will support the Christmas entertainment theme across a huge range of channels on...