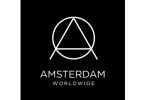 Amsterdam Worldwide,
Amsterdam
Follow
Update
Keizersgracht 121
Amsterdam 1015 CJ
Netherlands
About Us
Amsterdam Worldwide is a full-service, international communications agency.
We have created highly original and engaging work for some of the most respected brands including Intel, Onitsuka Tiger, Chevrolet, Coca-Cola, Heineken, IKEA, Mitsubishi, Opel, Sony Ericsson, Feadship, Olmeca Tequila and Panasonic.
Amsterdam Worldwide was created at the start of the digital revolution to build brands around the world in a new way. Neither a traditional network, nor a onecountry shop – but a new model. Our multi-national and multi-disciplined strategic, creative, digital, media and management teams work in collaboration with clients and agency partners to create highly effective, integrated pan-European and global campaigns.
For more than 12 years we have built passionate customer relationships, delivering results for clients who think big and are open to the innovative and unconventional.
Our philosophy: "Do Something Worth Talking About"- and people will.
Philosophy & Competitive Advantages
Amsterdam Worldwide was started with a single-minded belief: That today's | chaotic, fast-paced, and unpredictable business climate is mastered best by Creative Entrepreneurs.
People who know that good work isn't just good creative. It's good business. And that turning marketing costs into revenue is the pinnacle of Creative Entrepreneurship.
We aren't people who think creative should trump marketing goals. And we aren't people who look for numbers without considering the aesthetic, the quality and the intrinsic value of the brand.
We are people who combine creativity with business insight, people who calculate and manage risk, people who help our partners act like an innovative start-up, and turn opportunities into accelerated growth.
We are Creative Entrepreneurs.