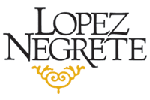 Lopez Negrete Communications, Inc.,
Houston
Follow
Update
3336 Richmond Avenue Suite 200
Houston, Texas 77098
United States
Phone: 713 877 8777
Fax: 713 877 8796
Philosophy & Competitive Advantages
Since 1985, Lopez Negrete has offered a full range of advertising and marketing services to industry leaders such as Wal-Mart Stores, Microsoft, Tyson Foods, Bank of America, VISA U.S.A., NBC Universal Pictures Group, Sonic Drive-Ins, Miller Brewing Company, Mission Foods - Guerrero Brand, Azteca Milling/MASECA, Reliant Energy and various others. Lopez Negrete has created a series of unique and innovative proprietary tools and resources, which make it possible for Lopez Negrete to understand consumer dynamics, priorities, and attitudes in a deep, meaningful and applicable manner. These tools enable the design and implementation of fully integrated communications programs which successfully create a bond between the brand and the Hispanic consumer. The result? A relationship built on a full understanding of the client's offerings, a sense of trust, value and community which take a brand from "unknown" to "tried," and from "preferred" to "loved." Lopez Negrete creates award-winning advertising, marketing, public relations and promotions that are culturally attune, situationally relevant and continuously proven to effectively deliver market share and sales increases for all its clients.