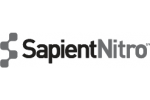 SapientNitro North America,
New York
40 Fulton Street 2nd Floor
New York, New York 10038
United States
Phone: 212 - 560-5700
Fax: 212 - 560- 5701
Country Phone Code: 1
Absolut Vodka - "Absolut India"
Pernod-Ricard
| | |
| --- | --- |
| Title | Absolut India |
| Tagline | Absolut India / India in Bottle |
| Agency | SapientNitro North America |
| Advertiser | Pernod-Ricard |
| Brand | Absolut Vodka |
| Product Category | Alcoholic |
| Campaign Name | Absolut India |
| Country of Production | India |
| Date of First Broadcast/Publication | December 1, 2011 |
| Media Type | Ambient |
| Awards | W3 Awards / The W³ Awards, 2012 (Silver) for Experimental / Innovative |
Story
The ABSOLUT INDIA project is a sound-based installation consumed by eavesdropping on an arrangement of bottles. Real sounds of India are used to elicit a unique emotional response as people are drawn to the bottles that most evoke nostalgia or curiosity for them. The installation is a soundscape using open source micro-controllers with custom electronics, ultra-sonic range sensors and monaural speakers in wood, glass and resin. 
Concept
Absolut's is a creative journey that begins at 'Absolut Blank'. What you make of the Absolut experience is up to you.
SapientNitro India was tasked with creating an immersive concept that leverages technology, design and consumer behavior. Absolut's iconic visual imagery has long been a part of popular culture, the Absolut India project is unique in using sounds as opposed to images to deliver an experience. The installation is an arrangement of 'bottled up' Indian sounds contained in ten polyresin cast Absolut bottles. Each bottle is labeled corresponding to the sounds it contains and uses custom electronics to deliver the experience. When a person eavesdrops on a bottle, he triggers sensors that 'play' the pre-recorded sound clip.
The experience melds calm and chaos in equal measure. Just as India throws herself at you with all she's got and all at once, the Absolut India installation too takes the person interacting with it through an abrupt soundscape