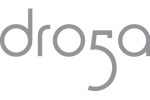 400 Lafayette Street 5th Floor
New York, New York 10003
United States
Phone: (+1) 917 237 8888
Fax: (+1) 917 237 8889
About Us
One of Fast Company's 2013 Most Innovative Companies, Droga5 is a creative and strategic agency headquartered in New York with offices in London and Sydney. Founded in 2006, Droga5 now counts as its clients Prudential, American Express, The Coca-Cola Company, Motorola, Mondelez International, Chobani, Under Armour, Spotify, Kraft Foods Group, Woolworths, Hennessy, Qantas and UNICEF, among others. In 2013, leading entertainment and media company William Morris Endeavor made a significant investment in Droga5, launching a strategic partnership to best serve each entities' clients. For more information, visit droga5.com.
Philosophy & Competitive Advantages
Droga5 was founded with a simple yet ambitious mission: to help build and sustain the most influential businesses and brands of the 21st century. Our inidividual goal for every client is effectiveness, and we strive to achieve that through campaigns that influence culture. It is influence that leads to game-changing business results.