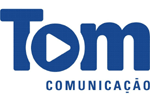 Tom Comunicação Ltda,
Belo Horizonte
Follow
Update
Avenida Afonso Pena, 2770 3º andar
Belo Horizonte 30130-007
Brazil
Philosophy & Competitive Advantages
In Portuguese Tom means tone. Like the word in English, it has a number of meanings: a pitch, an attitude, a color. The search of the right tone is a good definition for our approach: finding the right emphasis, the proper expression, the fitting shade and the correct strength. We listen to our clients and their customers. Then, we give shape and colors to the ideas. Our vocation is to feel the pulse of our client and to respond in the same beat. We do sell. But we do that elegantly, efficiently. We use both rigorous planning methods and bold creativity. We are a company of ideas. We start understanding the problem and them the ways of solving it. In the right timing and tone.
Trade Organizations
Associação Brasileira de Agências de Propaganda (ABAP)