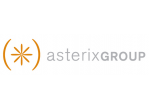 Asterix Group,
San Francisco
Follow
Update
156 2nd Street
San Francisco, California 94105
United States
About Us
Asterix Group is an award-winning brand strategy and creative agency dedicated to building extraordinary brands.
We help organizations develop strategies and brand experiences that inspire and enhance the lives of diverse consumers.
Philosophy & Competitive Advantages
Heart and soul can transform your brand.
"At Asterix Group, we go way beyond developing beautiful designs. We collaborate with you to explore the possibilities and develop solutions rooted in business strategy. We dig deep. We pull back the layers to get to the heart and soul of your brand. We use the power of your unique essence to express your brand and inspire audiences at an emotional level."
-Christine Lehtonen, Founder
Trade Organizations
Portland Advertising Federation
San Francisco Advertising Club