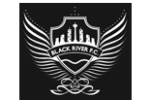 Black River FC,
Johannesburg
Follow
Update
Unit G3A, 44 Stanley Avenue, Milpark
Johannesburg, Gauteng 2092
South Africa
Phone: 11 482 7625
Fax: 11 482 7656
Black River FC is Number 1 in the country.
November 21, 2012
The Loeries 2012 Official Rankings were announced last week and Black River FC is proud to have achieved top spot in the Small Agency division as well as fifth spot overall.
"The 2012 Loeries Awards has been such a highlight for us and this ranking is a further honor for us, testament to the hard work and commitment our team has shown this year. What makes it really special is that our approach to our work has remained unchanged since Black River FC's inception" says Ahmed Tilly, Executive Creative Director at Black River FC.
The agency secured the prestigious Grand Prix, a Gold Loerie and a Gold Pendoring for the Nando's Last Dictator Standing advert in the TV and Film Communication category. It also took home Campaign Gold for the Nando's vs Santam advert and a Silver Pendoring and Bronze Loerie for the Nando's Diversity advert.
The Top Small Agency Ranking announcement comes barely two weeks after the agency was awarded the prestigious Black Eagle at the Eagle Print Awards for its 1stfor Women Insurance campaign, 'That's why we insure women'. Awarded only eight times since 1996, the Black Eagle is a rare and sought after award, making this a major coup for the agency.
"It's been a whirlwind few months and it's an honor to have our work recognised by the industry," says Tilly. "The most satisfying aspect though, is that the award-winning work was work created to answer real world problems for our clients, it wasn't created simply to win awards. In fact, we have never entered a piece of scam work - and we never will"
Earlier this year, Black River FC was also awarded the Creative Circle's Ad of the Year for Nando's Dictator.