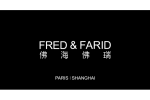 FRED & FARID GROUP,
Paris
22 rue de la Victoire
Paris 75009
France
Phone: 1 81 51 50 00
Fax: 1 81 51 50 01
Country Phone Code: 33
Wrangler - "Coco Crouching (Flare 17)"
VF Corporation
Title
Coco Crouching (Flare 17)
Tagline
We are animals
Agency
FRED & FARID GROUP
Advertiser
VF Corporation
Brand
Wrangler
Product Category
Clothing
Campaign Name
Flare
Market
Europe
Country of Production
France
Date of First Broadcast/Publication
July 2, 2008
Media Type
Print
Awards
Cannes Lions International Festival of Creativity, 2009 (Grand Prix Campaign) for Clothing, Footwear & Accessories
Grand Prix de la Publicité Presse Magazine, 2009 (Mention) for Fashion

| | |
| --- | --- |
| Executive Creative Director | Fred & Farid |
| Advertiser's Supervisor | Giorgio Presca |
Concept
In today's society, our animal instincts are smothered by daily modern life, city-living and constant technological developments. Man is an animal, but he no longer knows it. 'We Are Animals' developed by FFL Paris (Fred & Farid) for Wrangler, is more than a campaign signature. It is a statement of truth and long-term value for the brand that will be taken up for use by all countries. It is a reflection of the new vision of the Wrangler brand, repositioning itself through instinct and emotion. Each campaign will run across Europe, and will develop, substantiate and deepen this statement, reminding us that we are, before all else, animals.