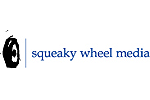 Squeaky Wheel Media,
New York
Follow
Update
640 West 28th Street 6th floor
New York, New York 10001
United States
Phone: 212 994-5270
Fax: 212 994-5271
Lexus - "Lexus CT 200h" - Squeaky Wheel Media
Lexus CT 200h
Lexus
Lexus
Squeaky Wheel Media
United States
Lexus CT 200h
| | |
| --- | --- |
| Product Category | Cars |
| Date of First Broadcast/Publication | March 1, 2011 |
| Media Type | Web Site |
Story
Lexus engaged Squeaky with an opportunity to launch a huge initiative focused on the general market. Squeaky unveiled a brand new interactive experience showcasing the new Lexus CT 200h.

We wanted the site to be both engaging and informational so visitors to the site are encouraged to explore the luxury hybrid via 360-degree exterior/interior views, customizable colors, and interactive hotspots showcasing the vehicle's innovative features. From there they can configure their own vehicle, find a dealer, or dig deeper into the car's technical specs.
Next, visitors can browse the Studio for photos and videos. But rather than implement a typical navigation system, we wanted to make browsing it feel more like a driving experience. So we did. The end result allows visitors to browse content along the y-axis, creating a feeling of movement while they peruse Lexus CT photos and videos. 
Concept
We wanted to provide users with a fun, interactive experience on both desktops and mobile devices.
Problem
In order to achieve this flawlessly, Flash was to be used. However, this posed a problem for viewing on Apple mobile devices. 
Result
We created a site that used both Flash as well as a combination of HTML, CSS and Javascript. The result was a seamless experience regardless of the device used to access it. How did we do it? There was a code behind in place so that when Flash wasn't supported the user would see an alternative version of the Flash site.