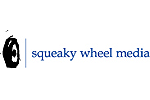 Squeaky Wheel Media,
New York
Follow
Update
640 West 28th Street 6th floor
New York, New York 10001
United States
Phone: 212 994-5270
Fax: 212 994-5271
New York Live Arts - "New York Live Arts Website" - Squeaky Wheel Media
New York Live Arts Website
New York Live Arts
New York Live Arts
Squeaky Wheel Media
United States
New York Live Arts
Product Category
Cinemas & Theatres
More Information
http://www.newyorklivearts.org
Language
English
Date of First Broadcast/Publication
August 15, 2011
Media Type
Case Study
Awards
ADDY Awards - New York, 2012 (Silver) for Websites, Consumer HTML/Other
Communication Arts, 2011 (Webpick of the day) for Webpick of the day

| | |
| --- | --- |
| Creative Director | Imelda Suriato |
Story
New York Live Arts is committed to redefining and revitalizing dance, both in the U.S. and globally. They came to Squeaky aspiring to establish a site with a new look and feel that still remained true to their artistic vision. Squeaky created a site that lives up to New York Live Arts' values and shares its goals, keeping excellence, innovation and leadership in mind.
Concept
We developed a user-friendly site, which captures the same dynamic and immersive quality one gets from a New York Live Arts performance. Evoking passion and movement, the landing page introduces audiences to NYLA with a video from a featured artist. Users are also able to ealisy access pertinent information, view biographies of dancers and purchase tickets online,
Problem
The challenge for the New York Live Arts site was to create a platform where users could experience first-hand the intimacy of the performances while having access to the latest news and event information.
Result
The newly re-engineered site is streamlined and easily navigable, allowing visitors to conveniently access the latest information about both current and future events, membership opportunities, programs and awareness about the dance community.
To create further engagement, Squeaky implemented an interactive catalogue where visitors can quickly access videos and images of past performances along with artist interviews.