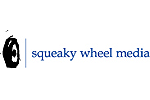 Squeaky Wheel Media,
New York
Follow
Update
640 West 28th Street 6th floor
New York, New York 10001
United States
Phone: 212 994-5270
Fax: 212 994-5271
Revlon - "Revlon" - Squeaky Wheel Media
Revlon
Revlon
Revlon Consumer Products Corporation
Squeaky Wheel Media
United States
Revlon
Product Category
Cosmetics, Beauty Products & Perfumes
More Information
http://www.revlon.com
Language
English
Date of First Broadcast/Publication
March 12, 2010
Media Type
Case Study
Awards
Pixel Awards, 2010 (People's Champ) for Beauty/Cosmetics
W3 Awards / The W³ Awards, 2010 (Best in Show) for Beauty/Cosmetics

Story
Revlon is an industry-leading cosmetics brand synonymous with modern glamour. Revlon approached Squeaky asking us to reposition their iconic brand with an all new web presence.
Concept
Through a dynamic, engaging web experience, Squeaky sought to reengage Revlon's audience, thus deepening brand-consumer loyalty.
Problem
Squeaky was given the task of reestablishing Revlon's web presence. Our goal was to increase end-user participation while reestablishing Revlon as an industry-leading brand.

Result
With the relaunch of Revlon.com, Squeaky developed an industry-leading site that created an engaging experience for end-users featuring a TAAZ virtual makeover and videos. The website went on to receive five prestigious web awards as well as garnered notable press. 
Squeaky then developed a Revlon Facebook presence complete with design and implementation. With a strong communication strategy, notable campaigns geared towards philanthropy such as Revlon Run/Walk and strong product promotions/contests we have been able to grow a large community on Facebook, channeling important dialogue and feedback for Revlon.