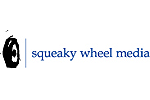 Squeaky Wheel Media,
New York
Follow
Update
640 West 28th Street 6th floor
New York, New York 10001
United States
Phone: 212 994-5270
Fax: 212 994-5271
Philosophy & Competitive Advantages
Squeaky Wheel Media is an interactive agency specializing in web-based ideas, design and development.
Founded in 2001, Squeaky Wheel Media is independent and minority/woman owned.
We are committed to assisting clients with their business and communication objectives by creating award-winning designs and developing interactive user experiences.