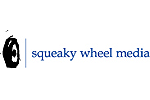 Squeaky Wheel Media,
New York
Follow
Update
640 West 28th Street 6th floor
New York, New York 10001
United States
Phone: 212 994-5270
Fax: 212 994-5271
Number of Employees: 25
Anthony Del Monte
President / Founder
Phone: 212 994 5270
anthony@squeaky.com
Anthony is a New Media veteran with credentials in the Interactive space dating back to 1993. His success is attributed to his steadfast commitment to the needs of both clients and employees.
At Squeaky Wheel, he takes these commitments to another level, making them his utmost priorities.
Anthony cultivated his design intuition while working on his BA-Art at New Jersey City University. During college, he ran his own display design business as well as worked with a leading scenic design house, serving clients such as the Joseph Papp Shakespeare Theater, Viacom, MTV, and Continental Airlines.
In 1991 Anthony joined the advertising giant Saatchi & Saatchi, working with clients such as J&J and General Mills. From there he focused on the hotel industry, spearheading an innovative, automated concierge system that connected hotel guests to local services and amenities.
After working as Director of Client Services for a pioneering multimedia production firm NVI in Philadelphia, Anthony then headed to Renaissance Multimedia where he became a partner at one of the first Interactive agencies in New York City. There he worked to build a core sales team that would guide Renaissance to be named one of the National ?Fast 500? by Deloitte & Touche, in 1999. In 2000, Anthony participated in the acquisition of Renaissance by Vizacom (a publicly held company) and as Vice President assisted with the launch of Vizy Interactive, a new Interactive agency.
Today, as President of Squeaky Wheel Media, Anthony is responsible for oversight of the Agency and all major client engagements. Dedication to ensuring client satisfaction is his primary focus.