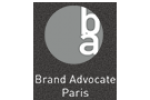 Brand Advocate,
Boulogne Billancourt
Follow
Update
63 bis rue de Sèvres
Boulogne Billancourt 92100
France
Phone: 01 41 86 07 43
Fax: 01 46 84 02 55
Edenred confie la création de son portail B to B à Brand Advocate
June 28, 2012
Edenred, inventeur de Ticket Restaurant® et leader mondial des services prépayés aux entreprises, a retenu l'agence Brand Advocate pour créer son portail B to B, une des récentes concrétisations du positionnement de marque Edenred.
Le portail montre toute l'expertise du groupe dans les domaines Avantages aux salariés, Gestion des frais professionnels et Motivation et récompenses, et installe Edenred comme le porte-parole, l'émetteur exclusif de l'ensemble des contenus de marques produits. Edenred affirme ainsi sa posture de leader en adoptant une approche globale qui adresse et conseille clients et prospects.
Après plus d'un an de collaboration et de travail entre Edenred et Brand Advocate le portail www.edenred.fr est en ligne.
Attachments