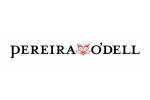 Pereira & O'Dell,
San Francisco
Follow
Update
215 2nd Street, Ste 100
San Francisco, California 94105
United States
About Us
Pereira & O'Dell is an international award-winning advertising agency that combines techniques from traditional advertising, digital, PR and design to create innovative campaigns, programs and products that are in sync with how consumers behave today. We believe our industry's traditional art of storytelling should be combined (not separated) with digital's ability to create experiences worth living on-demand. And with PR's ability of generating free media. And Design's talents to create images that last for decades. When exactly these things ended up getting separated, we don't know. But we are bringing them back together.
Pereira & O'Dell is committed to creating cross-disciplinary campaigns for progressive marketers. The agency boasts an impressive client roster which includes Mattel, Skype, Intel, Henkel (Purex, Soft Scrub), BevMo!, Corona, and Reebok. Pereira & O'Dell was recently named to both AdAge and Creativity's 2013 A-Lists based on the company's business performance, impact on clients' businesses as well as industry leadership and innovation.
Network Description
Grupo ABC de Comunicacao is the largest communication company in Brazil. Founded in 2002, the network consists of companies in global markets specializing in advertising, branding services, marketing services, entertainment and content. The company is currently ranked 19th in the world by Ad Age with global annual revenues in excess of $275 million. With over 1500 employees, the company was designated as a Global Growth Company at the World Economic Forum in Davos and is led by Nizan Guanaes, identified by the media as one of the 100 most influential Brazilians.
Trade Organizations
The One Club (One Club)
Association of National Advertisers, Inc. (ANA)