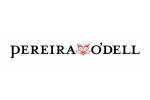 Pereira & O'Dell,
San Francisco
Follow
Update
215 2nd Street, Ste 100
San Francisco, California 94105
United States
About Us
Pereira & O'Dell is an international award-winning advertising agency that combines techniques from traditional advertising, digital, PR and design to create innovative campaigns, programs and products that are in sync with how consumers behave today. We believe our industry's traditional art of storytelling should be combined (not separated) with digital's ability to create experiences worth living on-demand. And with PR's ability of generating free media. And Design's talents to create images that last for decades. When exactly these things ended up getting separated, we don't know. But we are bringing them back together.
In 2014, Pereira & O'Dell was named in Fast Company's "Top 10 Most Innovative Companies in Advertising". The firm was recently named to both AdAge and Creativity's 2014 A-Lists based on the company's business performance, impact on clients' businesses as well as industry leadership and innovation. Among the Pereira & O'Dell client roster are Airbnb, Skype, Fiat, Intel, BevMo!, Fox Sports 1 and Henkel North America. The agency was named AdAge's 2010 "Small Agency of the Year" and has been featured in the SF Business Times "Best Places to Work" as well as 7x7's "Hot 20". In June 2013, Pereira & O'Dell received an Emmy and three Grand Prixs for "The Beauty Inside", a social film presented by Intel and Toshiba.

Network Description
Trade Organizations
The One Club (One Club)
Association of National Advertisers, Inc. (ANA)