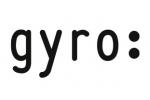 20, Rue Mirabeau
Paris 75016
France
Technicolor - "Technicolor" - gyro
Technicolor
Technicolor
TECHNICOLOR
gyro
United Kingdom
Technicolor
Concept
ASSIGNMENT
From Thomson to Technicolor: a new image, from B2C browngoods to B2B high-tech.
INSIGHT
The best technology is the one you can feel, not see.
STRATEGY
Life driving Technicolor technology.
CONCEPT
Technicolor brings ideas to life
APPROACH
Logo, on and offline graphic guidelines, B2B and B2C audiovisual identity, website, brochures, etc. for a global rollout.

RESULTS
A highly successful brand change with teams and external targets.