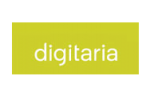 350 Tenth Avenue 12th Floor
San Diego, California 92101
United States
Phone: (+1) 619 237-5552
Fax: (+1) 619-237-5269
Digitaria Parties with SuperMEMES and More to Help Launch San Diego Comic-Con 2013
July 17, 2013
Partners with Mashable, Samsung, Islands Restaurants and Taylor Guitars on July 18 to create day of fun, food, fantasy and other things that aren't alliterative SAN DIEGO – Comic-Con is the biggest event of the year here, and digital marketing, technology and data company Digitaria is going all in, scheduling a full day of events atop DiamondView Tower, the luxury high-rise it calls headquarters.
Events include a daytime hospitality suite, Suite 1500, with lunch sponsored by Islands Restaurants; a night-time SuperMEMES party co-hosted with leading tech and social media news site Mashable and sponsored by Samsung; and an exclusive Digitaria After Dark after party sponsored by Taylor Guitars, featuring an acoustic set of music from versatile recording artists The Silent Comedy.
"Comic-Con may be the last truly 'fun' convention or conference for the marketing industry," said Dan Khabie, the WPP-owned, JWT-affiliated agency's CEO. "Yes, there are brands everywhere, and you get the pulse of what's going to be hot next before everyone else, but it's a whole different crowd. The die hard fans, the Cosplayers, the Steampunks, the Trekkies, they still rule. And that's refreshing."
A quick rundown of what to expect from Digitaria and its partners at Comic-Con:
· Suite 1500 is a wireless lounge and hospitality suite in the Ultimate Skybox at DiamondView Tower, on the 15th Floor, open from 9am to 4pm. Breakfast, lunch (sponsored by Islands Restaurants) and light drinks will be served throughout the day. Visitors can hang out, relax, work, listen to acoustic music sponsored by Taylor Guitars, and enjoy the amazing view of the city, Petco Park, the Convention Center and the Gaslamp District.
· SuperMEMES is the definitive Thursday night party, highlighted in The Hollywood Reporter and BleedingCool.com, co-hosted with Mashable and sponsored by Samsung, also held in the Ultimate Skybox on the 15th floor, from 8pm to midnight. There will be booze, food, DJ, dancing, original art, a photo booth, digital and entertainment marketing executives, celebrities and stars, and lots of surprises! Hopefully all good.
· Digitaria After Dark is the exclusive after midnight after party, held in Digitaria's office lounge and balcony on the 12th Floor of DiamondView Tower. Sponsored by Taylor Guitars and Manzanita Brewing, there will be wine and beer and snacks and a live acoustic set from The Silent Comedy. It begins at midnight and runs until everyone leaves, the sun rises, or we run out of booze.
The San Diego Comic-Con has become an entertainment industry behemoth in the past few years, with more than a quarter-million people descending upon the city and more than 130,000 tickets selling out in 90 minutes in 2013. Luminaries from the worlds of cinema, television, gaming, graphic novels and other forms of modern entertainment mingle with fanboys and fangirls for an event that remains unique on the American landscape.