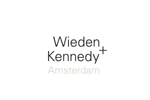 Wieden + Kennedy Amsterdam,
Amsterdam
Follow
Update
Herengracht 258-266
Amsterdam 1016 BV
Netherlands
Phone: 020 7126 500
Fax: 020 7126 699
Levi's with their ad agency W+K Amsterdam celebrate the "Go Forth" campaign in Berlin
July 11, 2011
Berliner Pioneers Immortalized locally by artist Vhils to celebrate "Go Forth" : To honour the campaign, Levi's® and W+K Amsterdam collaborated with the Portuguese street artist Alexandre Farto, aka Vhils, to create a series of street murals that captures the faces of some of Berlin's modern day pioneers in a dramatic and poetic way. These pioneers serve as an inspiration for the city and embody the 'Go Forth' spirit. Vhils sculpted the portraits of pioneers Fadi Saad, Various & Gould, Joe Hatchiban and Sven Marquardt into major building facades dotted throughout Berlin. A Making of documentary capturing Vhils' at work complements the murals themselves.
The Levi's® Print Workshop: Taking place from July 7 until August 18, the Levi's® Print Workshop will be a temporary venue in Berlin for collaboration and creative production that celebrates the craft of screen printing. The workshop will serve as a community-based extension of 'Go Forth,' paying homage to the pioneering spirit of the Levi's® campaign, the principle of civic engagement and the creative community of Berlin.
The "Now is our Time" Newspaper: A limited edition newspaper "Now is our Time" was distributed at Bread & Butter, featuring editorials about the Berliner Pioneers featured in the Berlin arm of the Go Forth campaign, with photography from Anthony Georgis.