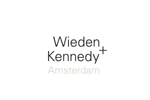 Wieden + Kennedy Amsterdam,
Amsterdam
Follow
Update
Herengracht 258-266
Amsterdam 1016 BV
Netherlands
Phone: 020 7126 500
Fax: 020 7126 699
Wieden + Kennedy Amsterdam grow their creative roster
January 28, 2011
ROSIE BARDALES (BBH), SELENA MCKENZIE & TOBY MOORE (FALLON), MIKE BOND & BERNHUNTER (AMV BBDO) AND IVAN CASH & DAN MAXWELL (VENABLES BELL & PARTNERS) JOIN THEFOLD
After the success of Nike's "Write the Future" and recent global buzz around Heineken's "The
Entrance", Wieden + Kennedy Amsterdam is enjoying a creative revival under the new leadership team of Mark Bernath, Eric Quennoy and Lee Newman, injecting new energy and momentum into the agency. Momentum that has directly led to the recent hiring of an exciting new crop of talent.
"We're putting the band together. And luckily we've already found some like-­‐minded souls who are going to help us shape the next evolution of this office. One that we hope will continue to live up to the great things happening throughout the network," said Executive Creative Director Mark Bernath
Lee Newman, Managing Director adds, "Creativity is the lifeblood of any Wieden + Kennedy office and we just received a transfusion. You can literally feel the energy level rising in this place right now."

Wieden + Kennedy has already received agency of the year accolades from Adweek, AdAge and Creativity as well as Campaign Magazine.
Rosie Bardales has joined W+K Amsterdam from BBH London as Creative Director. An industry star, Rossana's resume includes a Grand Prix for Fox Sports (Cliff Freeman & Partners) and the resurrection of the infamous Al & Monkey for PG Tips to name but a few successes.

Also joining from London are creative team Selena McKenzie and Toby Moore. Formerly at Fallon, they produced work for Tate, BBC and French Connection, helping create the striking "The Man" and "The Woman" campaign last year. Before joining Fallon, the pair was at Publicis Mojo Melbourne where they worked on Nike.
Hailing from South Africa, Mike and Bern are a well-­‐travelled team, whose previous stops on their world tour include TBWA in Paris, Publicis and Mother in New York and AMV in London, where they created award winning work for Guinness and The Department of Transport. After their travels they plan to return to their old high school and become very mean teachers.

Last but not least, up and coming team Dan Maxwell and Ivan Cash join the agency from Venables Bell in San Francisco. Ivan, Dan and Goodby AD Andy Dao created the website Deprofiler.com which brought to light unjust legislation targeting immigrants. The project was featured on Huffingtonpost and Creativity
-­‐
http://deprofiler.com/