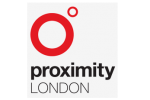 Proximity London,
London
Follow
Update
191 Old Marylebone Road
London NW1 5DW
United Kingdom
Phone: 020 7298 1000
Fax: 020 7298 1001
Philosophy & Competitive Advantages
Our approach comes from a simple truth - at the heart of your business are patterns of customer behaviour. Your existing customer base is made up of people who behave in various ways to create value for you.
Our job is to help unlock these patterns of behaviour and extract maximum future value by using communications to change what customers do.
At Proximity London we focus on what drives existing patterns of customer behaviour. We discover what will persuade customers to change them. Then we dramatise it with creativity and originality to boost our clients' profits.
Network Description
Proximity Worldwide was established in 2000 based on having a common set of values, ratherthan an artificial union. There are now 47 offices in 44 countriesworldwide, and still growing. We are a network of successful local agencies every one with domestic and international clients and each with a history of collaboration and partnership. Our philosophy is 'Local talent, globally traded'. We can tap into expertise in almost any sector, we share learnings, tools, research, resources(agency swap programmes with staff) and staff training programmes. We can also look at consumer trends globally and understand behaviours in markets more advanced then ours and likewise provide information to our network partners to those that are less advanced.
Trade Organizations
Institute of Practitioners in Advertising (IPA)
Marketing Society (MS)
Direct Marketing Association Ltd. (DMA)
Institute of Sales Promotion (ISP)
Marketing Communication Consultants Association (MCCA)
Periodical Publishers Association (PPA)
Institute of Direct Marketing (IDM)