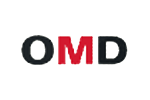 OMD International,
Boulogne Billancourt
Follow
Update
11-15 Avenue André Morizet
Boulogne Billancourt 92100
France
Phone: 01 53 30 55 00
Fax: 01 53 30 55 01
Philosophy & Competitive Advantages
The specific positionning of OMD, "insights, ideas, results", expresses our convictions and is at the center of our approach to always anticipate our clients'expectations and to guarantee them innovation and efficiency.
Insights: there are the stakes and issues knowledge and analysis of a communication activity and of its environment.
Ideas: this is the job expertise for creativity to offer a media/non media plan which leds to the best efficiency.
Results: this is the permanent worrying about the return on investment resulting from creativity and costs optimization.
Network Description
First media network in the world, OMD is present in 83 countries. OMD network is born in Paris. OMD France international department is a main coordination center in Europe. For more information: www.omd.com
Trade Organizations
Association des Agences Conseils en Communication (AACC)
Institut de Recherches et d'Etudes Publicitaires (IREP)
International Advertising Association (IAA)
European Society for Opinion and Marketing Research (ESOMAR)
Internet Advertising Bureau (IAB)
AACC - Marketing Communication
Union des Entreprises de Conseil et Achats Média (UDECAM )
Club de Recherche Tous Médias (CRTM)