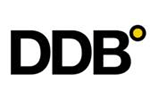 DDB New York,
New York
437 Madison Avenue 5th Floor
New York, New York 10022
United States
Phone: 212 415-2000
Fax: 212 415-3506
Country Phone Code: 1
Philosophy & Competitive Advantages
We believe that creativity is the most powerful force in business- it stirs emotion, influences minds and builds brands. The combination of brilliant creative ideas and extraordinary results is what sets DDB apart. We are not satisfied to be simply the most creative agency network in the world, but hold our creative ideas accountable for delivering business-building results. Our vision is to maintain our distinguished position by developing remarkable creative that transforms communication clutter into communication currency. In 2012, DDB was named Advertising Network of the Year by Campaign, as well as Agency of the Year and Digital Agency of the Year by Strategy magazine. At the prestigious 2012 Cannes International Festival of Creativity, DDB won 82 Lions, the most ever for the network. In addition, The Gunn Report has listed DDB as one of the Top 3 Global Networks for the last 12 years and DDB New York was named "Agency to Watch" in 2013 in Creativity magazine.