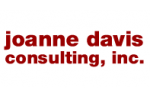 Joanne Davis Consulting,
New York
Update
325 East 57th Street
New York NY 10022
United States
Philosophy & Competitive Advantages
"Helping advertisers optimize their agency relationships, searches and remuneration."
We provide senior level expertise to client organizations for mutually successful relationships internally and with external agencies.
Experience
Since the firm's launch in 2000, clients include and have included a diverse and broad range of clients: Bausch and Lomb, Beam Global Wines and Spirits (formerly Jim Beam Brands), BlueCross BlueShield, Citigroup Smith Barney, Federated Department Stores (Macy's), Fidelity Investments, Ford Motor Company, IBM, Merrill Lynch, Miller Brewing Company, Office Depot, Payless ShoeSource, Subway Restaurants, Vanity Fair Apparel and Wilmington Trust Company. We spent 18 months working for the U.S. Department of Defense.
What Clients Like About Us:
Our past experience as Board level and agency owners enabling us to sit at the "big table" and help with strategy, not just a database
Our recent client side experience from our 18-month "tour of duty" with the U.S. Department of Defense where we acted at Head of Advertising
Our industry engagements through speaking, writing and Board positions with advertising organizations such as The ADVERTISING Club and Advertising Women of New York
Practice Areas
The firm offers full service consulting in agency search, agency compensation, current agency optimization, client marketing communications optimization and education for marketing and procurement teams. We have expertise in all disciplines including advertising, media, interactive, public relations, brand identity and global – even in trade show firm searches.
Network Description
To better serve international clients, Joanne Davis Consulting, Inc. is a partner in SCAN INTERNATIONAL, a multi-local communication management consultancy created in 2005. Partners of SCAN INTERNATIONAL are GrupoConsultores (Spain/ Portugal/Brazil), Scan Management Consultants (Benelux), Joanne Davis Consulting (USA), and Videotheque (France), all shareholders of Scan International BV –Amsterdam. Country Partners are The Haystack Group (UK) and Cherrypicker (Germany/Austria/Switzerland).