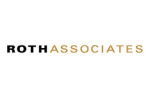 Roth Associates,
New York City
Update
120 East 79th Street Suite 5C
New York City, New York 10079
United States
Phone: (+1) (212) 861-9420
Fax: (+1) (212) 861-9425
About Us
Roth Associates is a leading consultancy in agency search, compensation and relationship management.
Our blue chip client list includes 90 of the Global Fortune 500 companies including 16 of the Top 100.
We are staffed with dedicated and highly credentialed senior consultants who are recognized for their insight, information and added-value approach to consulting engagements.
Our agency cost database is the only one in the industry to offer actual, current agency staff costs based on agency type, location and staff function.
Roth Associates only works for advertisers. We do not accept remuneration from agencies as we believe that constitutes a conflict of interest.
Philosophy & Competitive Advantages
Five key points of difference distinguish Roth Associates from other consultants.
Roth Associates provides fact-based insight derived from data and experience. The long standing success of the firm is attributed to our commitment to marrying both the science and art of agency search and consulting. By science we mean the accuracy of our data which is compiled and updated regularly. By art we mean the qualitative aspect of search and relationship management culled from more years in this business than any other competitor.
We maintain an unduplicated and proprietary database that allows us to benchmark staff costs by agency function, geography or type.Clients benefit from access to current, actual agency staff costs based on agency type, location and staff functions.
Roth Associates has conducted media sgency searches with combined billings in excess of $2 billion. We are the only consultancy with a dedicated, global media expert and are recognized for our in-depth knowledge of the media agency landscape.

Roth Associates only works for advertisers. We do not accept money from advertising agencies in any form (egistration fees, material storage fees, or new business consulting fees) as we believe that is a conflict of interest.
Each of our processes is designed to yield usable results. The ultimate goal is to provide our clients with programs, plans or work that, at process end, has reduced the learning curve of a new agency partners or improved the effectiveness and efficiency of an existing partner and maximized our clients' marketing investment of time and money.
Background
Established in 1987, Roth Associates (www.askroth.com) created the Communications Agency Management Consulting discipline. Since then, we have managed the broadest range of consulting assignments with a cumulative size approaching $10 billion in billings.
Today, we advise marketers of all sizes on all aspects of communications resource alignment and compensation. Our independent, accountable and time-tested approach continues to provide our clients with valuable, fact-based insights that directly impact their investment in communications plans and processes and the selection of the best partner
We offer in-depth, seasoned and objective understanding of marketers' communications needs; possess an unparalleled knowledge of the communications industry and its players; and provide our clients with the benefit of extensive experience in creating productive and sustainable agency/client relationships.
In 2007 Roth Associates expanded globally with the launch of Roth Observatory International (www.rothobservatoryinternational.com). Co-headquartered in New York and London, this joint venture answers international clients' growing needs for seamless, global agency selection, management and compensation information and insight.
Experience
Absolut
American Institute of CPAs
American Express
American Legacy Foundation
Atlantic City Alliance
Atlantis Paradise Island
AXA Equitable
Bank of New York
Bayer AG
Bear Creek
Bed Bath & Beyond
Belvedere Vodka
BMW North America
The Boeing Corporation
Burger King
Cadbury Schweppes
Citizens Bank
ConAgra
ConocoPhillips
Cablevision
Chrysler
Credit Suisse First Boston
Diamond Nuts
Delphi
Dreyfus Funds
Duracell
Fiat
Ford Motor Company
Gerber
Giant Eagle Supermarkets
Glaxo Smith Kline
HIP
H.J. Heinz
Hyundai Motor America
Jaguar
Jiffy Lube International
JP Morgan Chase
Kia Motors America
Land Rover
Lucent Technologies
LVMH
Miller Brewing Company
MINI Cooper
Mitsubishi
Motts
NASDAQ
Nationwide
New York Life Insurance
Nestle
Nextel
Novartis
Ocean Spray
Olympus
Oreck Corporation
Pimco
Playtex Energizer
Progressive Insurance
Quaker State Pennzoil
Reckitt Benkiser
Robert Mondavi
Shell
Six Flags
Specialty Brands of America
Supercuts
Target
Toyota
Toys R Us
Virgin Atlantic
Visiting Nurses NY
Vivartia
Volvo
Volkswagen
Wall Street Journal
Wyeth
Yahoo!
1-800 Flowers
Practice Areas
Roth Associates has three core competencies:
Agency (creative, media, digital, branding, multi-cultural and PR) search
Agency compensation
Agency relationship management
Network Description
Roth Associates in the U.S. has offices in New York City and Los Angeles. Our global network, Roth Observatory International, has offices in London, Edinburgh, Hamburg, Johannesburg and Singapore.
Local Representation
Roth Associates approach to servicing clients is to deploy a team, composed of highly-credentialed industry experts. This provides clients with insights, data and competency in all the necessary areas. Our clients affirm the benefits of our unique approach and cite the efficiencies delivered by our process.