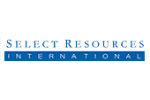 Select Resources International,
Santa Monica
3000 Ocean Park Boulevard, Suite 3000
Santa Monica, California 90405
United States
Phone: (310) 450 5777
Fax: (310) 450 9097
Country Phone Code: 1
Philosophy & Competitive Advantages
To help create enduring, mutually productive client/agency relationships based on effective collaboration, work everyone is proud of and ultimately, increased market share.
Experience
Below is a sampling of SRI clients:
adidas
Adobe
Alaska Airlines
Amgen
AT&T
Best Buy
BMW
Capital One
Charles Schwab
Darden Restaurants
Dell
DIRECTV
Discover
E*Trade Financial
Gap Inc
Global Hyatt Corporation.
HP
H&R Block
Hilton Hotels
Holland America
Hyandai
Hyatt
Mattel
Mitsubishi Motors
Nike
Nissan
Nokia
Nordstrom
Old Navy
Oracle
Paypal
PETSMART
Pfizer Consumer Health Care
Pizza Hut
The Quaker Oats Company
Safeway
Sears Holdings
Sony
Staples
Starbucks
Subway
Sun Microsystems
Taco Bell
TGI Friday;s
Timberland
The Home Depot
ToysRus
Twentieth Century Fox
Visa
Verizon
Walmart
Wells Fargo
Yahoo!
Practice Areas
Agency reviews and searches
Client/Agency relationship best practices
Compensation consulting
Resource model analyses and agency consolidations
Customized training of marketing staffs to improve agency performance
Agency workshops and new business consulting