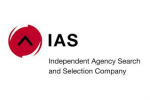 IAS,
Johannesburg
Update
Mazole House 807/1Hammets Crossing Cnr Selborne and Witkoppen Roads Fourways
Johannesburg, Gauteng 2055
South Africa
Phone: (+27) 11 462 3750
Fax: (+27) 11 704 6620
About Us
IAS is an agency search and selection company. We help marketers select the most appropriate agency for their advertising needs. We are also experts in client/agency relationship management.
Philosophy & Competitive Advantages
* expert
* affordable
* international methodology
Experience
Almost four decades of experience in marketing, advertising and PR, running big and small agencies in UK and South Africa. Also experienced in marketing in both countries, holding senior positions in well known large companies. All IAS consultants are experienced in advertising, media and PR agency work.
Practice Areas
Agency search
Agency management
Marketing consulting
Agency benchmarking
Agency familiarisation for marketers
Network Description
Part of the AAR Group UK worldwide network
Local Representation
IAS