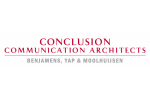 Conclusion Communication Architects,
Vreeland
Update
Bergseweg 28E
Vreeland 3633 AK
Netherlands
Philosophy & Competitive Advantages
Conclusion Communication Architects (CCA) is a consultancy agency that operates within the triangle of brands, markets and media. Our goal is to optimise communication programmes within the context of a business case, in terms of coherence across media and of overall effectiveness.
Communication strategy and the organisation of communication are the areas of attention of our business.
Our consultancy is aimed at the industry, public, media companies and agencies in general.
The way we work
Our service consists of communication auditing and strategy, agency selection and remuneration, client retention, interim management and various goal setting workshops. As part of the AAI network we handle both local and international assignments.
CCA is founded by Rob Benjamens, Kioe Yap and Fred Moolhuijsen. Being former CEOs of Euro RSCG, Publicis, and Y&R respectively there is a vast experience in general management, marketing and numerous communication disciplines.
The consultancy process is approached with an entrepreneurial mind which leads to a pragmatic, result-oriented advice. With a clear guidance, how and with whom, to get it done.