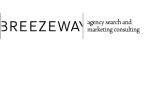 Breezeway Oy,
Espoo
Update
Nöykkiönpuro 19
Espoo, Finland 02300
Finland
Philosophy & Competitive Advantages
Breezeway operates independently with no ownership or ties to other companies. We think it is crucial that all parties involved know that the assignment is always treated objectively and confidentially.
Background
The founder of the company, Tuuli Kahma, is a professional in marketing. She has assisted clients operating in many different business segments both nationally and internationally. Client references can be found on www.breezeway.fi
Tuuli is graduated from the Helsinki School of Economics and Business Administration and has an eMBA in marketing.
Experience
Breezeway has experience in agency search, selection, agency audits, remuneration and client-agency relationships in the whole field of marketing and PR. We have also helped our clients in recruiting marketing talent.
Practice Areas
Marketing and PR agency search, selection, evaluation, remuneration. Agency audits. Marketing recruitements.