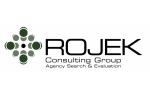 The Rojek Consulting Group,
Cleveland
Update
Crown Centre Suite 600 5005 Rockside Road
Cleveland, Ohio 44131
United States
Philosophy & Competitive Advantages
We generate results through a high level of strategic marketing expertise and the application of our signature philosophy: the importance of understanding corporate culture and values systems to create team alignment, both in initial agency selection and in creating client-agency relationships that work.
Only RCG has the people, methodology, and proprietary data to help you assess your choices in the agency marketplace with corporate cultural fit and compatibility as a consideration in the agency review and selection process.

Experience
The legacy of RCG's work has improved marketing performance, generated cost savings and achieved growth for some of the world's best-known brands:
Universal Studios
GOJO Industries
GMAC
Goodyear
Royal Caribbean
Travelocity.com
White Castle
Sherwin Williams
United Jewish Communities
Lands' End
It's a business about people-and people matter.
Practice Areas
Ad agency selection and review, evaluation through cultural analysis