Venables Bell & Partners is an internationally recognized independent San Francisco advertising agency founded on good intentions. We believe, above all else, in doing right by our people and our clients. This has an amazing result: it makes us unafraid. Unafraid to have messy conversations. Unafraid to advocate unpopular stances. Unafraid to politely tell the Emperor (and his board-approved marketing plan) that he may, in fact, be naked. We actively nurture a culture where both honesty and respect thrive. We simultaneously foster both collaboration and debate – among ourselves and with our clients. If we had to explain a method to the madness, it would be this: We believe that integrity is actually a competitive business advantage.
It is this fearlessness that led us to reject Intel's original strategy and instead serve up our own, the foundation of the successful "Sponsors of Tomorrow" campaign. And this courage which led us to tell Audi to stop playing it safe and take on Lexus, Mercedes, and BMW, an approach that has redefined the luxury car market.
With profitable growth every year since opening our doors in 2001, our challenger approach has attracted blue-chip brands like eBay, Google, Slim Jim, Orville Redenbacher's, Healthy Choice, the Phillips 66 Company to VB&P's roster. In addition to our full-service offerings, VB&P is home to vpb orange, a brand innovation consultancy and Lumberyard, a content production facility.
New Associate Partners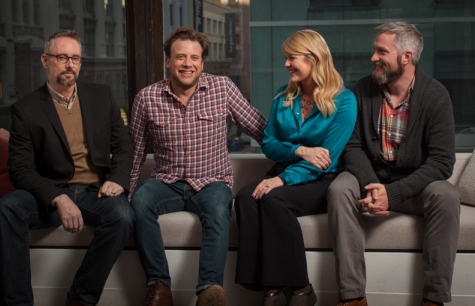 As we continue to evolve our leadership team, VB&P is promoting four to the newly defined role of Associate Partner. These include Lee Einhorn, Associate Partner, Creative Director, who along with his CD role will lead social media and emerging creative platforms; Michael Davidson, Associate Partner, Head of Strategy, who continues to oversee the agency's strategy department; Mary Johnstone, Associate Partner, Head Of Talent and Gary Brown, Associate Partner, Chief Financial Officer.
"Beyond just being stellar performers, our new Associate Partners are also change agents, whose innate drive for progress will take our work and agency to new heights," said Paul Birks-Hay, Partner and President, Venables Bell & Partners.
Read more about the news on The SF Egotist and SHOOT.