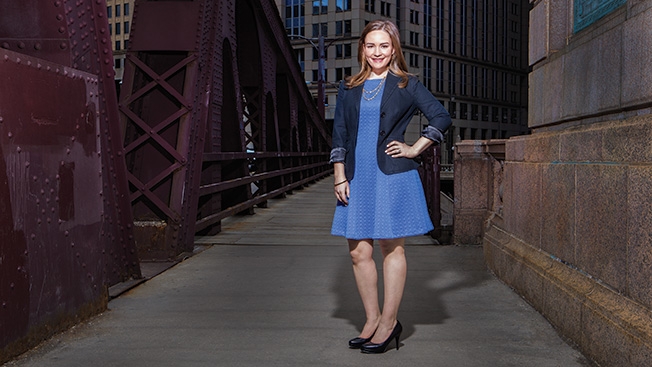 ADWEEK -- May 11, 2015
Jennifer Sever is known for looking out for and embracing innovation. It's no secret the 29-year-old associate media director for Maxus in Chicago always seems to have an innate sense of knowing the next hot thing coming down the pipeline, according to her boss Spencer Bahler, Maxus Chicago's managing director. In fact, he adds, it's a key element to her success.
"Jennifer is a very big advocate of creative solutions and approaches," explains Bahler. "She has media creativity really at the center of everything she does, and has the ability to immerse herself in our clients' business—quickly determining creative breakthrough opportunities."
Adweek's Media All-Star's Rising Star for 2015 did just that for client ACH Food, which was looking to drive fresh growth for all of its products. The pressure of a major global account's growth didn't bother Sever—even though she is tasked with all media planning and buying with display, custom content, various partnerships and paid social. It's a large remit for someone so young and junior.
But rather than shy away from the responsibility, Sever ran with it. She convinced ACH Food to take new and innovative approaches that stood to boost its business. By brokering a partnership that spanned the entire ACH Food portfolio—a first-time approach for the brands—with Scripps Networks Interactive, Sever was able to nab ACH 40 percent savings on television and 25 percent savings on digital elements, PR and shopper marketing.
Sever's shining moment was in her innovative partnership for ACH Food with Tasting Table, an influential website for foodies, to create a custom digital content hub called A World of Difference. The hub featured six custom-themed menus for various holiday parties. The partnership began in fall 2014 and yielded record growth for ACH Food brands like Spice Islands, a McCormick challenger, which saw an increase in sales of almost 15 percent in November, according to IRI Worldwide data. The content helped differentiate the commodity brand and received nearly 40,000 total pageviews, higher than Tasting Table's nonbranded editorial content.
"She always provides good insight and guidance on new media vehicles as they come up. She's very collaborative and a good team leader," says William Puentes, senior director of marketing for ACH Food.
"I've been able to grow with this account," acknowledges Sever. "It's been amazing to start with something at the beginning and determine how our team wants to work and how our clients can succeed. We start from the beginning of consumer insights. And then to see all the hard work activated in market is really exciting … it's really the best part. This account is one where I feel we've had the ability to come up with great ideas that are actually executed."
After graduating from Miami University in 2007, Sever returned to her hometown of Chicago, landing at Starcom where she cut her teeth working on the Procter & Gamble account. In 2012, she left for Maxus where she worked on S.C. Johnson.
There was determination behind the moves: Sever says she wanted to experience working on a global account and learn what media was like in different countries—so she did. Sever led communication strategies across 70 international markets, trained and managed 30 local media market teams and traveled to China, Malaysia, Thailand and Indonesia to lead strategy and personally train the local teams.
"Jennifer has a great ability—whether she's working with a director or chief marketing officer or associate brand manager—to really be able to effectively and easily communicate why it is that we're recommending what we're doing," says her boss Bahler. "She can easily adapt to a brief that has been given to her and read between the lines to find what the clients are really talking about in the long term."
Sever's success landed her recognition within her agency. She nabbed an internal award, the Maxus PACE, which honors employees who are passionate, agile, collaborative and entrepreneurial. All this, before she's even gotten her vp stripes. —Kristina Monllos