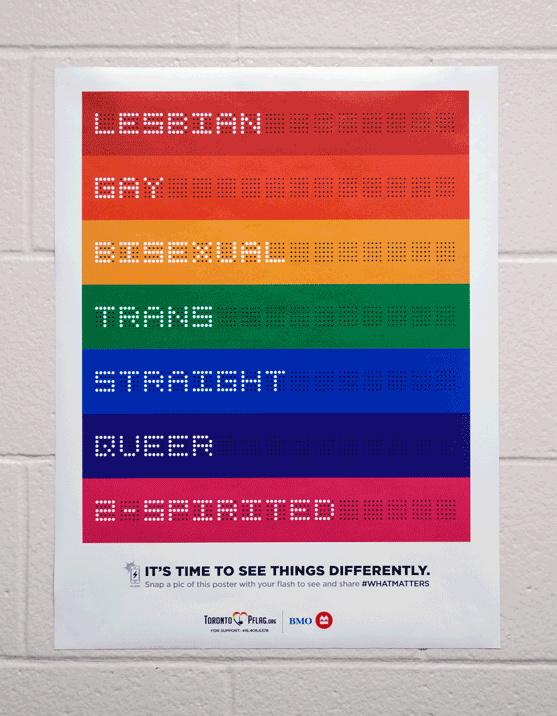 Toronto, ON - January 21, 2016 - When the 76,000 middle school and high school students of the Toronto District School Board returned to classes after the holiday break, they were welcomed by something new for 2016 in their hallways. A new poster campaign has launched from Toronto Plag (Parents, families, friends and allies of Toronto's LGBTQ community) that aims to end gender based discrimination in schools.
The poster features a prominent symbol of the LGBT community being a rainbow flag with the words Lesbian, Gay, Bisexual, Trans, Straight, Queer and 2-Spirited on each of the colourful strips of the flag. The poster encourages students to take a photo of the poster with their phone's camera using the flash to see and share #WhatMatters.
"We wanted to send a positive message to students that we are all more than just our gender identity and sexual orientation," says Abbe Creighton, President of Toronto Plfag. "Our mission is to get sutdents talking about these things so the novel and shareable nature of this poster was a perfect fit for our message."
After the flash photo has been taken, a hidden series of words appears that makes students think twice about their fellow classmates and who they really are. Words such as partner, teammate, friend, ally and supporter, illuminate thanks to an innovative new printing technique created in part by advertising agency J. Walter Thompson Canada.
"School hallways are a busy place, so trying to compete with everything else on the walls is a chellange," says Ryan Spelliscy, SVP, Executive Creative Director at J. Walter Thompson Canada. "By taking a traditional medium like print and adding an interactive component that's triggered by student's phones, our message has a greater likelihood of being shared.