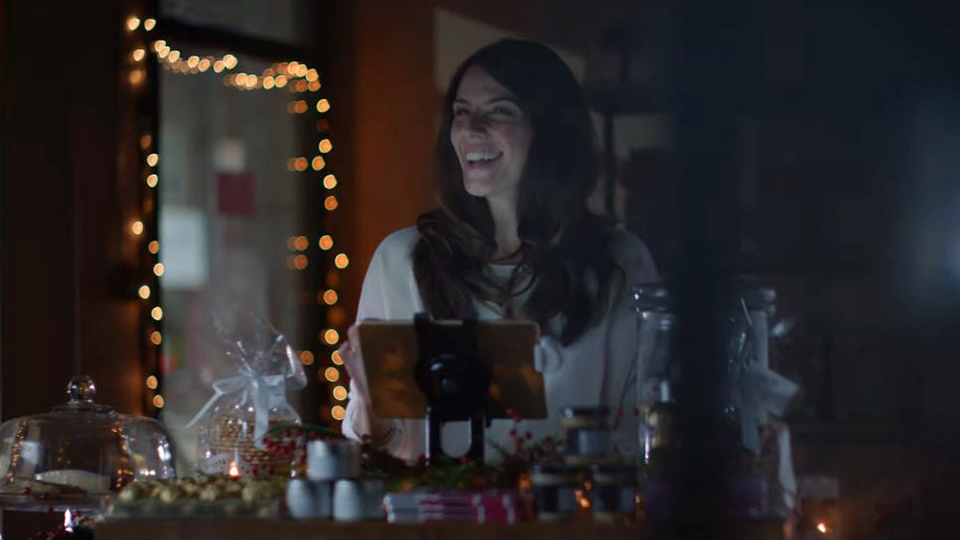 Nationwide prize draw for hero business who work through the holidays
DECEMBER 7, 2016 – Sage, the market leader for integrated accounting, payroll and payment systems, has today launched its first ever digital Christmas advertising campaign. The advert shines a spotlight on how hard small businesses have to work over the holiday season, and launches together with a nationwide prize draw to reward businesses that have made a big impact on their community. The ad will run from December 7th – January 7th on social channels including YouTube, Twitter and Facebook and runs with the hashtag #ThereForUs.
The advert tells the story of a mother who is unable to join her family to celebrate Christmas every year because she works so hard to run her business – year after year, there's an empty chair at the table. But this year on Christmas Eve, she follows a trail of Christmaslights to her storeroom to find that her family have taken Christmas to her – laying out a full Christmas dinner in the store so they can celebrate the holidays together.
Produced in partnership with US agency Pereira & O'Dell, the advertising campaign is part of Sage's new brand strategy to highlight the company's dedication to business builders who make significant contributions to the economy, often with great personal sacrifice.
"The holidays naturally evoke emotion and at Sage, we wanted to create a special, heartfelt ad that shows our appreciation of the entrepreneurs who make our holidays better," explains Sage's EVP Brand, Van Diamandakis. "This festive season is a time of celebration — especially for the people, values, and traditions that matter to us. But so often, hard-working small business owners have to sacrifice time with family and friends to stay open. We want to take the opportunity to shine a light on the business builders who work tirelessly to make other people's holidays so special that they miss out on their own."
For US & UK, Sage is asking the public to nominate a small business of their choice who will be gifted £5,000/$5,000 by Sage, a small token to ensure they enjoy their Christmas and to say thank you for all they do for us, not just throughout the year but especially at Christmas time.View the advert and vote for outstanding businesses in your community here for US and here for UK.  
About Sage
Sage is the market and technology leader for integrated accounting, payroll and payment systems, supporting the ambition of entrepreneurs and business builders. Today, business builders measure success in strong relationships, partnerships, and communities. It's why Sage helps drive today's business builders with the most intelligent and flexible cloud-enabled software, support and advice to manage everything from money to people. Daily, more than 13,000 Sage colleagues in 23 countries work with a thriving global community of over 3 million entrepreneurs, business owners, tradespeople, accountants, partners and developers to champion the success of business builders everywhere. And as a FTSE 100 business, we are passionate about doing business the right way, supporting our local communities through the Sage Foundation. Sage – the market and technology leader for integrated accounting, payroll and payment systems, powered by the cloud and supporting the ambition of the world's entrepreneurs and business builders. Because when business builders do well, we all do.
For more information, visit www.sage.com