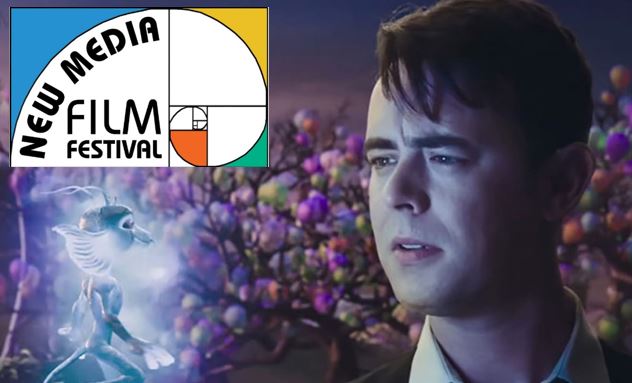 On June 10, 2015, the New Media Film Festival honored Dell and Intel's "What Lives Inside" (http://www.whatlivesinside.com) the Grand Prize The award was announced at the closing cermeony held at Landmark Theater in Los Angeles. 
The Grand Prize encompasses story, production value, above and below-the-line teams and how they put that story into a moving visual.
New Media Film Festival embodies the transformative power of the cinematic arts and it reaches across cultural bridges to wed story and technology for everyone. The festival explores how new technology can enable and be part of storytelling for filmmakers of all types.
"What Lives Inside" An emotional tale of creative self-discovery is set in a richly surreal world inhabited by fantastical creatures The web series is directed by Robert Stromberg and stars Colin Hanks, Catherine O'Hara and Oscar winner JK Simmons ("Whiplash") in a tale about a lost son played by Mr. Hanks, Taylor, and his departed father (Mr. Simmons), a famous puppeteer beloved for his creativity. Taylor discovers a lot more about his father -- and his supposed fictitious creations -- only after his dad's death. A call for auditions in the form of creature sketches went out at the time of the series announcement. Of over 6,000 sketches submitted, 144 were selected and featured in the film. 
TEAM CREDITS FOR "WHAT LIVES INSIDE"
Intel
Partnering Marketing Manager: Ryan Baker
Global Account Director: Michelle Megarry
Executive Producer: Billie Goldman
Dell
Executive Director of North America Marketing: Marissa Tarleton
Partner Programs Director: Michael Lambert
Media Communications Sr. Advisor: Natalie Greeson
Agency: Pereira & O'Dell
Chief Creative Officer: PJ Pereira
Executive Creative Director: Jaime Robinson
Creative Director: Jason Apaliski
Creative Director: Rob Lambrechts
Senior Designer: Moses Kelany
VP Director of Production: Jeff Ferro
Senior Film Producer: Elisa Moore
Senior Integrated Producer: Erin Davis
Trailer and Interactive Editor: Collin Kriner
Co - Director of Client Services: Henry Arlander
Account Director: Marisa Quiter
Account Executive: Jessy Baer
VP of Media: Josh Brandau
Media Strategists Pete Fishman
Project Manager: Adam Russell
Business Affairs Director: Russ Nadler
Publicist: Molly Parsley
Production Intern: Josh Diaz
Production Company: RSA Films
Directed by Robert Stromberg
Director of Photography: Rodrigo Prieto, ASC, AMC
Starring: Colin Hanks, Catherine O'Hara, J.K. Simmons, Barak Hardley
Composer: James Newton Howard
Executive Producer: Tracie Norfleet
Producer: Jan Wieringa
Production Designer: Todd Cherniawsky
Costume Designer: Hala Bahmet
Editor: Rick Pearson ACE.
Assistant Editor: Sean Thompson
Casting Director: Heidi Levitt, C.S.A.
Screenwriter: Christopher Kubasik
1st Assistant Director: KC Hodenfield
VFX: MPC
Creative Director – Paul O'Shea
2D Supervisor – Toma Bowen
VFX Supervisor – Ross Denner
Asset Supervisor: Aaron Hamman
Animation Supervisor: Stew Burris
Managing Director: Andrew Bell
Senior Producer: Nicole Fina
Interactive Production Company: Stopp
Executive Producers: Fredrik Frizell, Eric Shamlin
Sr. Producer: Kelsey Reddicks
Producer: Callan Koenig
User Experience Architect: Wai Shun Yeong
Creative Director: Zach Richter
Art Director: Abe Cortes
Tech Director: Ola Bjorling
Developer: Jin Kim
Sound Design & Mix: 740 Sound
Executive Producer: Scott Ganary
EP of Mix: Erin Reilly
Lead Mixer/ADR Mixer: Larry Winer
Sound Design Producer: Jeff Martin
Sound Designers: Nicholas Interlandi
Sound Designer / Post Audio Coordinator – Rob Marshall
Sound Designer – Will Ogilvie
Scheduling Coordinator – Geena Richard
Title Design and Editorial: Laundry Design
Creative Directors: Anthony Liu, PJ Richardson
Executive Producer: Michael Bennett
Senior Producer: Dan Masciarelli
Editor – Rick Pearson
Asst. Editor – Sean Thompson