Feedback
AdForum Creative Profiles are currently in beta, let us know if you see anything wrong in this profile.
Report an issue
Worked As
Business Sectors
Awards
2014 British Arrows Silver (3)
2014 Advertising Creative Circle Awards Gold (2)
2014 British Arrows Craft Silver
2014 British Arrows Gold (2)
2014 Cannes Lions International Festival of Creativity Bronze Lion (2)
2014 Advertising Creative Circle Awards Silver
2014 The APA Show / APA 50 2014 APA Collection
More
Billy Mead
at Tenthree
United Kingdom
Positions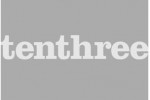 Tenthree
London, United Kingdom
- Current
enthree is a vibrant boutique editing facility in the heart of soho.
we love our job and between us we offer a wide range of editing experience in all fields, working with leading directors, production companies, agencies and record labels, worldwide.
we work on avid and final cut (we like to be versatile) but above all, at tenthree we pride ourselves on our highly creative, personal and quality service from start to finish, no matter what the job.
oh, and we make great cake.
Add Positions
Education
Popular Works