Feedback
AdForum Creative Profiles are currently in beta, let us know if you see anything wrong in this profile.
Report an issue
Worked As
Executive Creative Director
Creative Director
Business Sectors
Banking & Financial Services, Investments, Stock Brokers
Cars
Government & Other Authorities
Fruit Juices & Drinks
Non-Alcoholic
Online Financial Service
Automotive
More
Awards
2000 London International Awards - LIA Finalist
Chris Becker
Vice President & Executive Creative Director at Bozell S.A. de C.V.
United States
Experience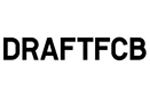 Chief Creative Officer
Draftfcb New York
New York, United States
Draftfcb places equal emphasis on creativity and accountability, science and art. We are made up of a diverse, passionate group of thinkers, creators, poets, artists & technologists devoted to creating brilliant ideas that change behavior. With nearly 140 years of combined expertise, Draftfcb has roots in both consumer advertising and behavioral, data-driven direct marketing. Our worldwide network now spans 151 offices in 90 countries, with over 8,000 people, and is part of the Interpublic Group of Companies (NYSE:IPG).
Add Positions
Education
Popular Works
View All